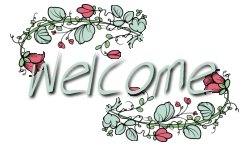 OUR SHOWER
IN PENNSYLVANIA
Given by: Mom Husum, Mom Rode and Bridal Party
June 23, 2002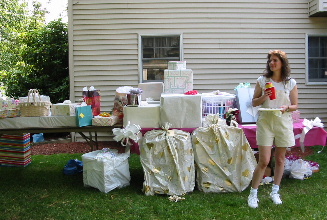 This looks like Christmas in June; doesn't it!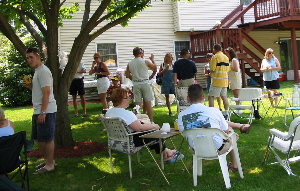 Our guests came early and chatted and enjoyed the nice HOT weather.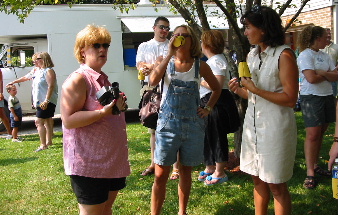 The guests anxiously awaited our arrival! The shower was a catered event;
you can see the caterer in the background! If you notice, the drinks have
cup cozies around them. Mom Husum had these made with our wedding date
printed on them. Nice touch!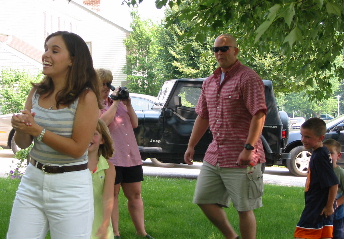 We were surprised when a throng of people met us as we arrived!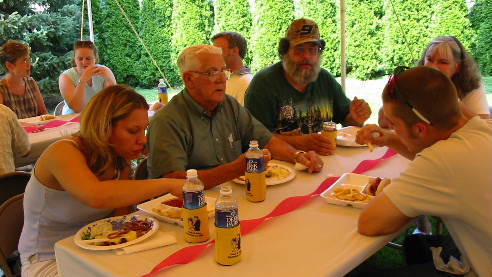 Lunch was picnic-style and VERY tastey!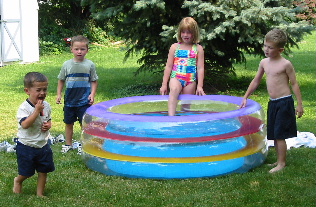 The kids were entertained by being able to romp in the pool and
play the bean-bag toss game, and just generally be kids! They
had a great time!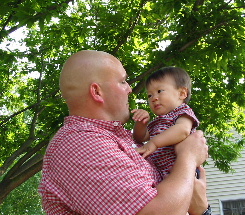 Jason and his newest first cousin, Graham
Click picture to visit Graham's page"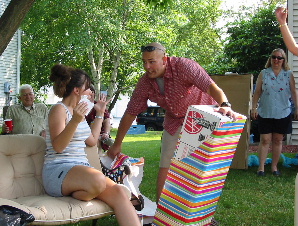 We were excited with all the awesome presents we received


Mom Husum made sure the bows were saved for good luck,
and Julie kept a list of our gifts.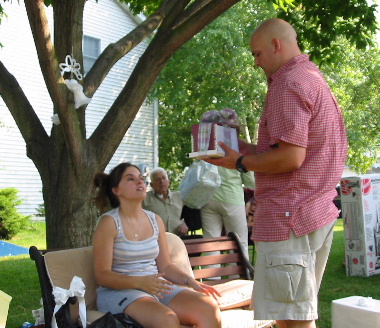 Our family and friends submitted some of their favorite recipes
and Mom Rode had them printed for us into book form. The
handwritten cards were given to us in the box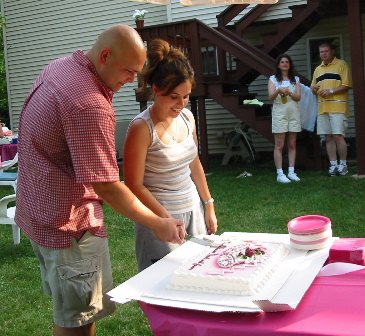 Raspberry and vanilla cake!!
And YES! It was as delicious as it sounds!

PLEASE SIGN OUR GUESTBOOK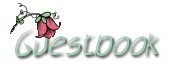 C H I C A G O
S H O W E R
Click the rose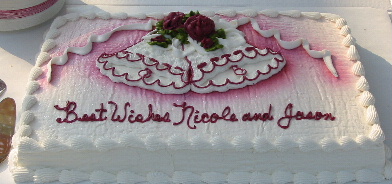 CLICK THE CAKE TO SEE OUR WEDDING DAY


Click the button below to follow us from 1999 to present




SEE PICTURES OF OUR ENGAGEMENT
BY CLICKING THE ROSE ABOVE

Playing ~ Don't Sit Under the Apple Tree (with anyone else but me)
If you're wondering about the selection of music ~ here's the story ~
This was a popular song by The Andrews Sisters during WWII.
It was Jason's Mamaw's and Papaw's "theme song" until Papaw
returned home safely from the war. It was also specially played for
Mamaw and Papaw Ginter at their 50th Wedding Anniversary.
Momma Rode just thought it would be nice to put on Jason's
(who is their first grandson) and Nicole's (who is their first
grand-daughter-in-law) shower page :-)
Here's wishing the two of you 50 plus years of happy, healthy and
loving marriage!!