MERRY CHRISTMAS
~

2001

~
*Click* Scott and Missy's addition to our family, Graham, arrived in time for Christmas with us!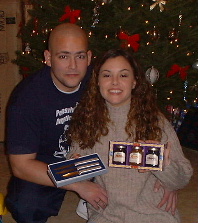 CHRISTMAS WITH THE RODECREW ~ 2001
Click each small picture to see the larger picture
DECEMBER 23, 2001 ~ OUR EARLY CHRISTMAS


Did you hear sleigh bells?




Yeah! I think Santa's sleigh runners scraped the asphalt on the street.




Can Santa really use his sleigh in the rain? ...I hope so or we're outta luck!




Papaw said, "Some of our best friends are flakes" ! We love the picture, Papaw! And we love you too!!





I'm ready to go looking for this Santa person! I've been hearing alot about him
lately. Take me outside so I can see, Grand-Great Uncle J. T.!




I'm ready with the camera for proof!




Yes, Graham! See! There really is a Santa Claus




Hey! Is deer season still in or did I work through it?




Play with my toys!! Play with my toys!!




Where are our toys?




You sure those aren't my toys?




This Elmo's mine! So don't even try, Uncle Tob!


CHRISTMAS EVE, 2001 *Click the tree*


WE GOT ENGAGED IN 2001


Christmas 2000 with the RodeCrew


Cousin Graham's Very Own Web Page